Gricer
(slang): an individual with specialist knowledge
Gricer focuses on sounds, rhythm and tempo, and inhabits the spaces in-between, bypassing genres, and dodging clichés. The 12 compositions on this debut, self-titled album create their own dark dynamic through a combination of rock minimalism, austere near-ballads, improvisation, pure sound, and bold use of space.
Gricer is David Maleed: composer, electric guitars, Hammond B3 organ, glockenspiel, environmental sounds, clapping, with Subs Subassa: bass guitar, electronic tone; Dylan Howe: drums; Jay Phelps: trumpet, and Jenny Adejayan: cello.
Recorded at Westside, The Premises and Eastcote studios in London 2004/2005.
Engineer: Philip Bagenal.
Tracklist
Slow

Staccato

Taut

Trumpet

Folk

Land

Tiles

Beware of Death

Tonic

Skin and Bone

Semiconductor Archive or Longtone

The Weight of the Well-Known Name


Meticulous attention to fluid sonic detail
THE WIRE
Outstanding and ever intriguing
BBC RADIO 3'S MAX REINHARDT, LATE JUNCTION
They veer between moody trumpet ballads at one extreme and pure sound experiments at the other
BBC RADIO 3'S ROBERT SANDALL, MIXING IT
I've been plodding through millions of same old soul destroying CDs from rock bands all day and at 2am this saved my sanity... it's wonderful
THE ORGAN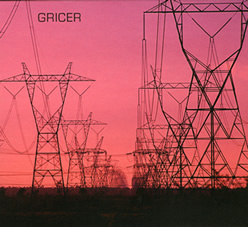 Gricer digipack CD TR1 Taut Recordings
BUY ONLINE:


RETAIL STOCKISTS:
Ray's Jazz, Foyles Bookshop
107 Charing Cross Road,
London WC2 tel: 020 7440 3205
www.foyles.co.uk
rays@foyles.co.uk
Spillers Records, Cardiff CF10
www.spillersrecords.com
Avalanche, Edinburgh EH1
Tel: 0131 225 3939
Reveal Records, Derby DE1
www.reveal-records.com
Monorail Music, Glasgow G1
www.monorailmusic.com
Piccadilly Records, Manchester M1
www.piccadillyrecords.com
Action Records, Preston PR1
www.actionrecords.co.uk
As heard on
BBC 6 Music's Freak Zone and Freakier Zone
BBC 6 Music's 6 Music Recommends
BBC Radio 3's Late Junction
BBC Radio 3's Mixing It
BBC Radio Lancashire's On The Wire
BBC Radio Foyel's Caschlár: A World of Music
WNUR Chicago The Third Eye
XFM's Flo-Motion
Resonance FM's The Other Rock Show
OK Radio Bremen's Popscene
Loughborough radio's Alternative Alternative